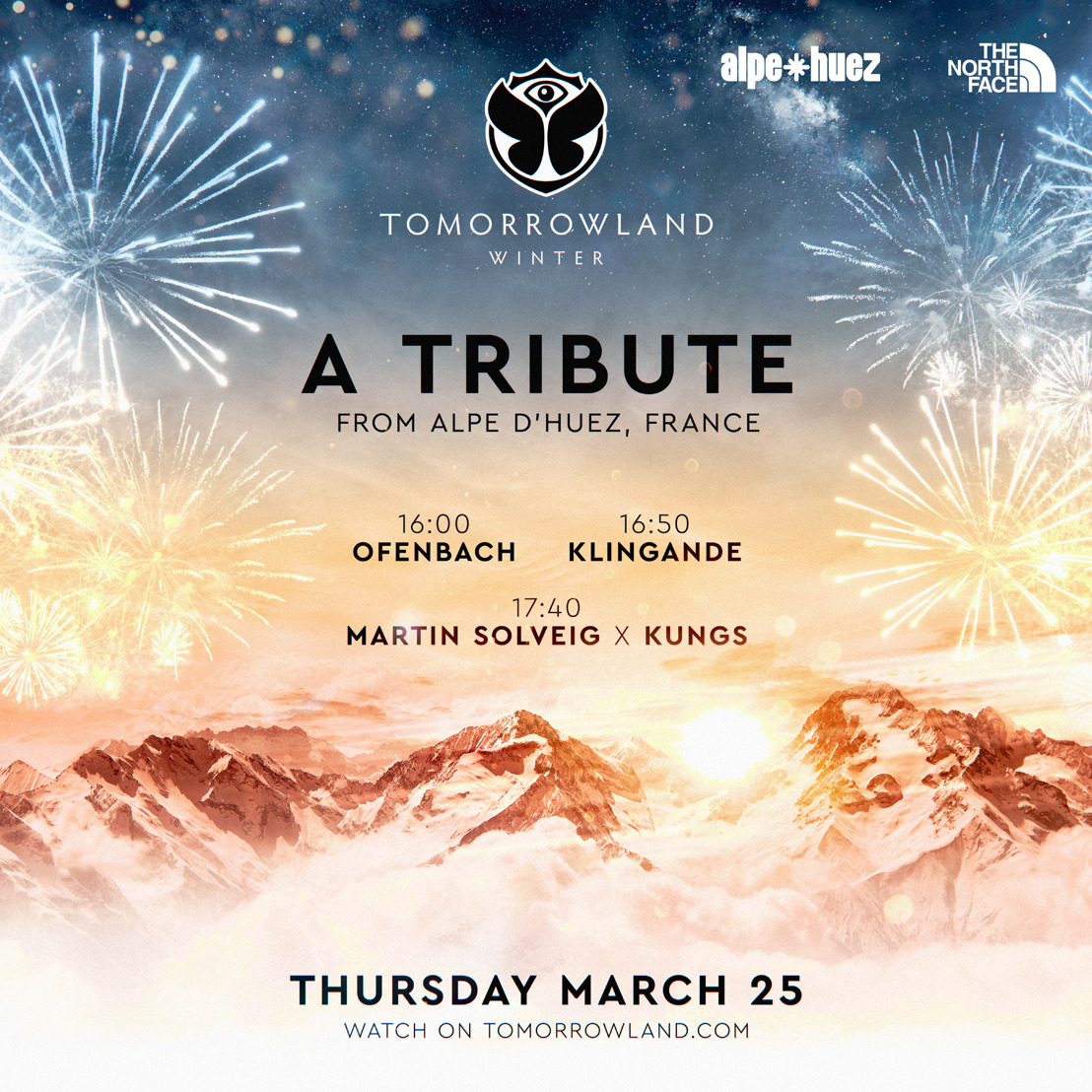 Dancing on top of the French Alps with Tomorrowland, featuring Martin Solveig x Kungs, Klingande and Ofenbach
2,5-hour show with spectacular views of Alpe d'Huez and the surrounding mountains as a tribute to Tomorrowland Winter
Monday, 22 March 2021 - In honor of this year's Tomorrowland Winter, which cannot take place due to the ongoing COVID-19 pandemic, Tomorrowland is returning to the beautiful surroundings of the French mountains… On Thursday March 25, the world-renowned festival will turn the breathtaking ski resort of Alpe d'Huez into a stunning concert venue for a magical winter wonderland show on top of the French Alps. Featuring an all-French line-up, Martin Solveig x Kungs (unique b2b set for the first time ever), Klingande and Ofenbach will all deliver an exclusive performance – at a dazzling altitude of more than 2,100 meters – with spectacular views of Alpe d'Huez and the surrounding mountains. The 2,5 hour-long show will air on Thursday March 25 at 16:00 CET, exclusively on tomorrowland.com.
French dance legend Martin Solveig: "The COVID-19 pandemic made us realize how precious small things are. We're on top of the world here at Alpe d'Huez and feel very lucky to be part of this. It's our first time playing a b2b set together, really exciting!"
French young prodigy Kungs: "I'm working on a lot of new music at the moment. The vibe of the album I'm working on is really happy and positive. I think I'll release a couple of tracks before summer and then an album afterwards. I'm going to play one track during our set, it's called 'Regarde moi'. I hope the people will like it!"
French tropical house producer Klingande: "I'm blessed with the perfect set time – sunset. This goes perfect with my music. I didn't get to travel since a year now and I haven't played in so long, so I'm very excited. It's great to create, but it's definitely great to perform as well."
Tune in to the Tribute to Tomorrowland Winter on Thursday March 25 at 16:00 CET, exclusively on tomorrowland.com.